In this challenging time, the question of productivity isn't whether or not leaders can trust their people to keep working hard from home. It's whether leaders can give their people the clarity, resources, and psychological safety needed to be successful in the longer term.
Let's do a bit of time-travel. Think back to your very first job, the moment when you'd started to hit your groove. Work probably kept you busy, but you were meeting your deadlines and feeling good.
Then one day, after going in just like you always did, you finished your tasks earlier than expected – a lot earlier. It was 10:45am and everything your manager had given you to do was done. Not only that, but your inbox was empty and you'd gone the extra mile of taking initiative to complete something that was only due for the following week…oh, and your manager? They're away on holiday.
So what do you do?
If your then-organization didn't have the type of company culture where it was okay to go home early, work flexibly, or where presenteeism was a common problem, then this would have been a horrific and confusing experience. You could invent work to do, but doesn't that just seem wrong?
Fast forward into the present and many employees are still struggling with similar situations. Alright, perhaps the majority of us are not finishing everything that early in the day. But staying unnecessarily at work (even if work is at home) provides more problems than you may think.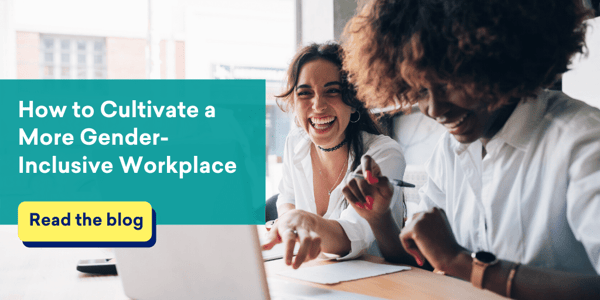 As the Covid-19 pandemic continues to affect government decisions to restrict our movements, many organisations are shifting to mostly remote work (with Twitter as an extreme case, making the controversial announcement that their employees could choose to work from home "forever" if they wish).
This dramatic change is forcing leaders to re-evaluate their expectations around employee productivity. While some employees will make the transition easily, getting just as much done as they would going into the office, others will struggle to adapt to mostly remote work, only able to operate at a fraction of their usual productivity.
If you haven't communicated clearly and set expectations around productivity during the COVID-19 crisis, your employees are almost certainly dealing with thoughts like the ones described in our time-travel scenario. Unclear expectations also have significant impacts on trust since it is very easy for employees to lose trust in their manager if they're uncertain about what their job is and how it fits within the wider organisational vision. Unsurprising then that 84% of employees who don't trust their managers are also more likely to say that role expectations, goals and responsibilities are not clear.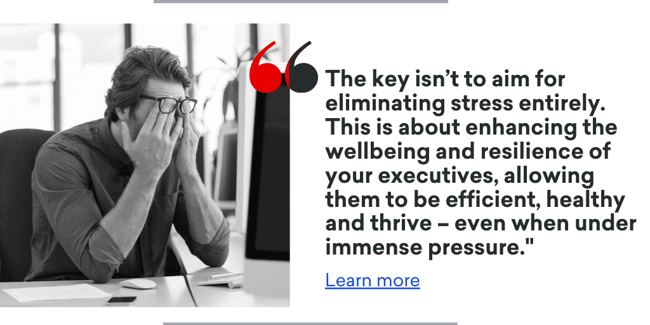 How you can help your employees when work is uncertain:
1) Redefine expectations
How has your own work changed due to the pandemic – and could this be the same for others in the organisation? What projects can people work on that would add value to the company if their normal workload slows down?
For example, let's say an employee realises they've managed to accomplish all their goals for the day, including some side projects suggested by their manager, but it's only 3:00pm. In a high-trust culture, individuals would feel comfortable to communicate this to their team and then activate their 'out of office' before turning off their laptop and leaving their workspace. Taking a walk, calling friends or family, or watching a movie can all have greater benefits than inventing more work for oneself if the usual volume of work just isn't there during a crisis.
Of course, not everyone will be in the same situation. There may be some employees who, for various reasons, find themselves only able to do about 70% of what they would normally do while working remotely. Here, it's important that line managers stay connected to their teams and make it clear that they understand and won't hold employees accountable for the 30% they can't do.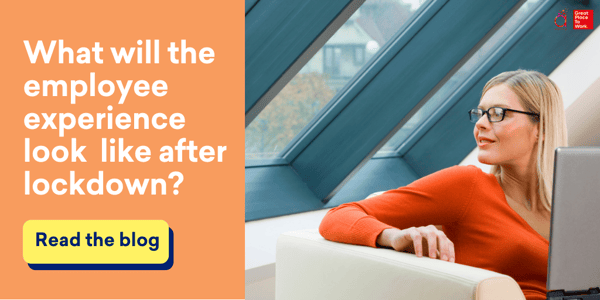 2) Properly equip your people
It's crucial to make sure that your people have what they need to be as successful as possible in their new situation; whether it be technology, communication or something else.
To set your people up for success:
Tap into the knowledge of any pre-existing remote workers who seem to thrive. Did your organization already have employees working remotely full-time before COVID-19? If so, reach out to them too to discover their best practices and flag any issues that you may need to consider.


Remove bureaucratic barriers. Waiting for weeks for your resource request to be approved is maddening. If your employees say they need a second computer monitor at home to do their work, believe them. Now is not the time to make people jump through hoops.


Check-in often. For many – whether transitioning to prolonged remote work, or to entering and working in a COVID-secure office space – it won't be as easy as flipping a switch. It's important for leaders to frequently check in on their people throughout this time.
In addition to running employee surveys, one best practice for doing this at scale is to create a "Virtual Ambassador" role. Virtual Ambassadors are responsible for checking in with virtual employees to find out:
- what has been working well;
- which challenges employees are facing; and
- other feedback employees may have.
Virtual Ambassadors then share this feedback with leadership. This role typically requires 6-8 hours per week. When selecting Virtual Ambassadors, consider employees whose duties include tasks they can't perform while working remotely. They're likely to have extra bandwidth, and may appreciate the opportunity to contribute in a different way.
Your company culture can get stronger even while you're apart.
The coronavirus has disrupted business, forcing organisations to adapt and improvise. But even as the uncertainty inherent in these times stresses teams, you can build and strengthen your company culture. It all starts with care and communication.
For more advice on managing the employee experience during — and after — the COVID-19 crisis, visit our dedicated 'Better Together' resource page: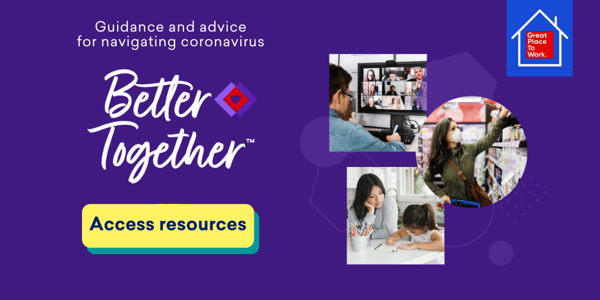 ---
This feature has been adapted by an original article by Claire Hastwell, Content Marketing Manager at Great Place to Work®. She works with our data and company culture experts to bring you the most useful insights and advice. When Claire's not sifting through our 28+ years of employee survey data and identifying trends, she's rolling out her yoga mat or daydreaming about her next road trip.
Great Place to Work® specialises in helping organisations build impactful workplace cultures. We are here to help support our clients during this period of uncertainty. If you are a client, please reach out to your Account Manager who can share the tools we have in place to enable workplaces to measure and understand their current employee sentiments. If you are not a current client, stay tuned to our blog posts, Twitter and LinkedIn for people practices, advice and thought leadership on how best to navigate this unprecedented time.