Distilled from hundreds of employee surveys in 2020 and 2021, here are the data insights and best practices from the UK's Best Workplaces™.
It is our global mission at Great Place to Work® to help create great workplaces for all and to recognise those organisations that do.
The differences that bold leadership and a culture driven by shared values and a sense of purpose can make to organisations are clear. Keep reading to find out how the UK's Best Workplaces™️ are putting those principles into practice.
NEW PUBLICATION!
BEST WORKPLACES™️ 2022: How Bold Leadership is Creating Great Workplaces #ForAll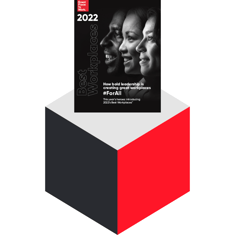 Access more data insights and best practices in our Best Workplaces™️ publication!
Better for business, for people, for the world.
We strongly believe in the notion of 'better for business, better for people, better for the world'. Best Workplaces™ consistently put people first – not just in terms of looking out for their own employees but also by caring for their surrounding community and environment however they can.
In fact, 82% of Best Workplace™️ employees agreed with the statement "I feel good about the ways we contribute to the community"
One employee from IT consultancy CGI UK commented on the positive impact the company's purpose-driven ethos has:
"CGI is a highly ethical business that cares a huge amount about its employees. I'm incredibly proud of the work being done in our communities, particularly the science-based targets for net zero."
It's all about trust
As Great Place to Work® UK's Director of Marketing and Growth Claire Knights explains, trust should still be top priority for organisations.
"Trust is the glue that binds people together. In fact, it's so critical to workplace culture that we measure it. Year after year, our data shows that organisations with high levels of trust have better workplace cultures and better outcomes across a whole raft of performance metrics"
So, it's no wonder that the UK's Best Workplaces™️ enjoy high levels of trust - 82% compared to 74% at non-Best Workplaces™️.
Henry Stewart, Chief Happiness Officer at Happy, explains how the company puts it's trust in employees:
"Our culture is one where people are encouraged to play to their strengths, have full freedom and trust, and do not need approval from above."
It goes without saying that the last few years have been tough on employees and organisations alike, but our UK's Best Workplaces™️ continue to put people and purpose first. We believe that this kind of bold leadership helps businesses and their workers thrive, no matter what life throws at them.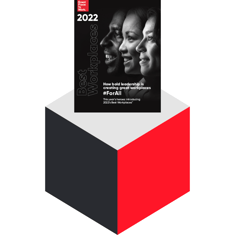 Discover more insights in our Best Workplaces™️ Publication!